Seasoned Apple or Ash logs delivered to the Tonbridge area
We are suppliers of both Apple and ash split logs delivered directly to your door. Forget trying to burn freshly cut wood that won't light, spits and burns the carpet. All our logs have been stored, seasoned and split correctly into easy to handle sizes.
*We stock only the best quality wood, seasoned Ash and Apple.
*All firewood is available in either small carry bags (from yard only) tall barrow bags or large bulk bags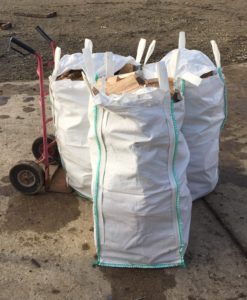 *Kindling bags are also available
Prices
Well seasoned Apple or Ash
Larger bulk bags – £70

Tall barrow bags -Minimum 3 bags delivered or single bag collection from the yard – £30 per bag (plus £3 deposit for bag)

Kindling – £6

Stacking service – £10 per bag ( must be booked before delivery)
Burning wood benefits
* Wood is easy to store and burn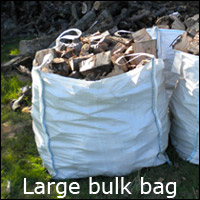 * Great aroma when burning
* Small amount of ash
* Dried wood burns at a higher temperature
* Burning wood is eco friendly
Opening Hours
Phone Line hours: 9.00 am till 17.00 pm
Yard open on Saturdays from 10.00am till 3.00 pm (Closed Sunday)
Tel: 01732 850055
Delivery Information
Free Tonbridge delivery
Delivery for Tunbridge Wells, Sevenoaks and surrounding Tonbridge area £5
Please note, logs will be offloaded as close to your intended location as the vehicle can reach (we do not provide a stacking service)

Environmental Issues
When we burn wood we are releasing solar energy, in the form of heat, that has been stored in the wood as chemical energy. The process of photosynthesis converted solar energy, water and carbon dioxide into oxygen and the organic molecules that form the wood, half the weight of which is carbon. So burning wood is just the quick reversal of this process, liberating the sun's heat when we need it most.
Unlike the burning of fossil fuels like coal, gas or oil, burning firewood releases no more greenhouse gases (carbon dioxide) than would be produced were the wood to simply rot on the forest floor. If we are responsible in the ways we grow, cut, and burn our firewood, wood burning can actually be a good choice for the environment.